Casio CZ-1 Cartridges (and their rom dumps!)

No one seems to have dumped any Casio CZ cartridges, so I just had to.

I did actually get these carts from a local music instrument shop, boxed and new! (Thank you SoundFactory.lv!)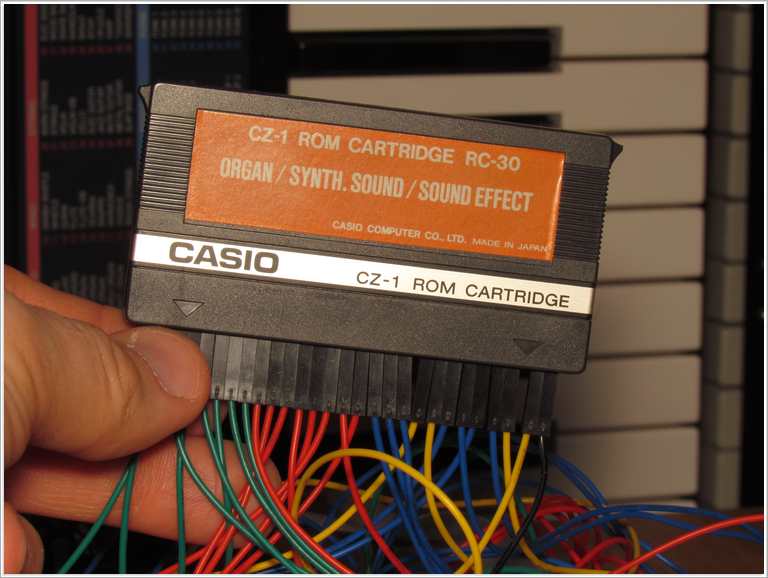 Rom size: up to 32kbytes, however CZ-1 don't have the upper address connected, so it can address only lower 16kbytes
Contents: Patch settings (no waves, of course)


I'll put some more stuff here and higher res pictures eventually, as well as scan the cartridge manuals and boxes.
Dumped data and made these pics a bunch of years ago, so it might take some considerable time to dig more/better stuff up from some random backups.

...


Schematic/pinout will be there eventually... when I will find where I have backuped those old pics.

However, there' s not much to it:

Rom has all the pins connected - even Vpp has its own pin, so these carts could be burned with contents after complete assembly.
For synths that have up to three upper addresses unconnected, there are pulldown resistors on those lines so synths allways access the lowermost part - as per their addessing capabilites.
There's also a NAND gate used as an inverter for cs.
For RAM carts, plastic shell has a space for CR20xx battery.

Cartrige instrument lists (generated from rom contents):
Casio CZ-1 ROM Cartridge RC-10
"ORCHESTRA"


A0: BRASS 7
A1: BRASS 8
A2: BRASS 9
A3: BRASS 10
A4: BRASS 11
A5: BRASS 12
A6: BRASS 13
A7: BRASS 14
B0: BRASS 15
B1: 5TH BRASS
B2: STRINGS 6
B3: STRINGS 7
B4: STRINGS 8
B5: STRINGS 9
B6: STRINGS 10
B7: SLOW STRINGS
C0: OCTAVE STRINGS
C1: 5TH STRINGS
C2: ORCHESTRA 2
C3: ORCHESTRA 3
C4: ORCHESTRA 4
C5: ORCHESTRA 5
C6: ORCHESTRA 6
C7: ORCHESTRA 7
D0: TRUMPET 2
D1: TRUMPET 3
D2: TRUMPET 4
D3: TRUMPET 5
D4: DRUNK TRUMPET
D5: CLASSIC TRUMPET
D6: TROMBONE 1
D7: TROMBONE 2

E0: HORN 1
E1: HORN 2
E2: TUBA 1
E3: TUBA 2
E4: FLUTE 3
E5: FLUTE 4
E6: PAN FLUTE 2
E7: PICCOLO
F0: OBOE
F1: ENGLISH HORN
F2: BASSOON
F3: SAXOPHONE 4
F4: BARITONE SAX
F5: CLARINET 1
F6: CLARINET 2
F7: BASS CLARINET
G0: VIOLIN 1
G1: VIOLIN 2
G2: VIOLIN 3
G3: VIOLIN PIZZ.
G4: VIOLA
G5: CELLO 2
G6: CELLO 3
G7: CONTRABASS
H0: VOICE 5
H1: VOICE 6
H2: VOICE 7
H3: ACCORDION 2
H4: HARMONICA 2
H5: HARMONICA 3
H6: RECORDER 2
H7: CALLIOPE

Casio CZ-1 ROM Cartridge RC-30
"ORGAN / SYNTH. SOUND / SOUND EFFECT"


A0: PIPE ORGAN 4
A1: PIPE ORGAN 5
A2: PIPE ORGAN 6
A3: ELEC.ORGAN 1
A4: ELEC.ORGAN 2
A5: ELEC.ORGAN 3
A6: ELEC.ORGAN 4
A7: ELEC.ORGAN 5
B0: SYNTH.ENSEMBLE
B1: SYNTH.BRASS
B2: TWO OSCILLATORS
B3: DREAM SOUND
B4: MORNING HAZE
B5: JUMP
B6: POPCORN
B7: MELLOW
C0: SLOW SWELL TRPT.
C1: SLAP BACK 4TH
C2: LONG DELAY
C3: SWEEP SOUND 4
C4: SHADOW
C5: NOON
C6: SYNTH.BASS 4
C7: SYNTH.BASS 5
D0: DIST.LEAD
D1: TRASH CAN LEAD
D2: SYNTH.LEAD 9
D3: SYNTH.LEAD 10
D4: SYNTH.LEAD 11
D5: SYNTH.LEAD 12
D6: SYNTH.LEAD 13
D7: SYNTH.LEAD 14

E0: SPACE PITCH MOD.
E1: FALLING ALIEN
E2: DROP OF WATER
E3: RIFLE
E4: LASER GUN 2
E5: FIRE ENGINE
E6: AMBULANCE
E7: CAR HORN
F0: SPACE JET
F1: TAKE OFF
F2: HELICOPTER
F3: FROZEN FREQUENCY
F4: INDUSTRY
F5: TANK
F6: SF DOOR
F7: TELEPHONE CALL
G0: EXPLOSION 1
G1: EXPLOSION 2
G2: FIREWORKS 1
G3: FIREWORKS 2
G4: SEA GULL
G5: OCEAN SOUND
G6: TAP DANCE
G7: INSECT
H0: REVERSE
H1: WEIRD SCIENCE
H2: MUSIC BOX 2
H3: OCT.TENSION
H4: BIG WINDER
H5: GALAXY TRAIN
H6: SPACE LIFT
H7: SAMBA WHISTLE

If you want to use those lists in some automated way (say for an .ins instrument definition file) I've added text files with bare lists to the files section.


Cartridge internal stuff

Not much here yet, but will eventually put there some high-res pics, and more dumps, when I've got some other carts.

Cartridge insides: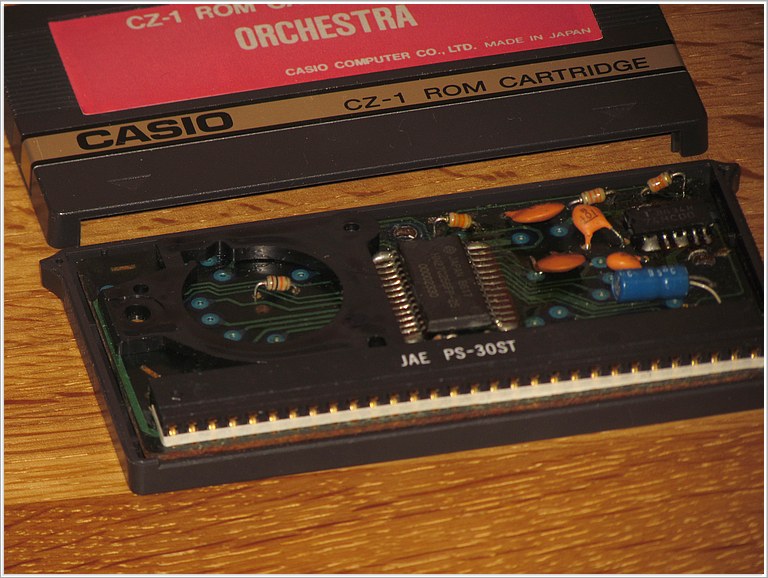 (Page under construction)

Cartridge ROM dumps
...

| | | | |
| --- | --- | --- | --- |
| Cartridge name | ROM IC type | Notes | Data binary image |
| Casio CZ-1 cartridge RC-10 "ORCHESTRA" | 27C256 | CZ-1 uses only lower 16kbytes | Get ZIP file, List |
| Casio CZ-1 cartridge RC-30 "ORGAN / SYNTH. SOUND / SOUND EFFECT" | 27C256 | CZ-1 uses only lower 16kbytes | Get ZIP file, List |
..